The Grill is a block used for crafting certain recipes of the Food Plus mod. It cooks a variety of food, similar to the Furnace in regular Minecraft.
The Grill is used to cook, or "grill" foods using fuel such as coal or any kind of wood.
The recipes it is used in includes:
Grill GUI
Edit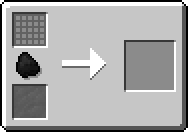 Crafting Recipe
Edit
This block is crafted on the Workbench.
Ingredients:
Edit
3 Coal
2 Cobblestone
1 Stick
Former Versions
Edit
Although one of the more recent additions to the mod, the Grill originally had a different model and appearance.